What are the alternative organic ingredients to the most used anti-ageing cosmetic active ingredients?
Discover what are the alternative organic ingredients to the most used anti-ageing cosmetic active ingredients.
In the cosmetic market we find ingredients that are well known and used for their anti-aging benefits, but did you know what are the alternative organic ingredients to the most used anti-aging cosmetic active ingredients that perform very similar functions?
At OLAND we have many and varied organic ingredients, it is one of the main characteristics of the brand: more than 95% of our ingredients are organic, most of them are powerful anti-aging active ingredients, specifically selected to be effective against the different signs of ageing.
We offer an organic alternative to the more classic anti-aging cosmetics to treat the signs of skin aging.
It is important to highlight the value and great potential of the benefits offered by ingredients found in nature for the care and treatment of the skin, finding anti-aging ingredients beyond the most well-known active ingredients, such as, for example, Retinol, Niacinamide, Vitamin C, Hyaluronic Acid or Vitamin E.
Our ingredients have been carefully selected to offer benefits similar to these commonly known active ingredients, but being organic ingredients, respectful with the environment and the skin. That is why from OLAND we want to claim the importance of knowing the organic alternative to the conventional anti-aging ingredients that we usually find in the market:
Retinol: It is one of the ingredients par excellence in anti-aging treatment,  boosts the synthesis of collagen, and minimizes the loss of transepidermal water. In addition, it helps promote cell renewal and stimulate the proliferation of keratinocytes.
OLAND organic alternative
Hydrolyzed Organic Maca Root: Significantly stimulates keratinocytes for the synthesis of the main components of the extracellular matrix, including collagen. Counteracts aging by promoting the production of fibroblasts and other skin cells that suffer the effects of aging. In addition, it is a powerful cell energizer.
Organic Rosehip Oil: Rich in Bio-Retinol, it helps to firm, promote cell renewal and reduce blemishes, marks, and imperfections. Its anti-aging effect is reinforced by its vitamin E content that stimulates the production of collagen, smoothing wrinkles and fine lines. In addition, it is a powerful antioxidant, it has enormous power against free radicals that cause skin aging. Its nourishing and emollient properties make it ideal for sensitive skin.
Organic Shea Butter: It increases the production of collagen, inhibits its degradation, in addition to preserving it together with elastin, the main structural components of the skin. Its antioxidant and regenerative properties make it the ideal ally to combat the first signs of aging. It is deeply hydrating, as it regulates the water content helping to soothe and nourish sensitive and delicate skin
Niacinamide: Effective antioxidant activity. Improves appearance, pigmentation, and skin elasticity.
OLAND organic alternative
Organic Beech Bud Extract: Its continuous use is perfect to prevent the appearance of the first signs of aging, specifically, the loss of elasticity, the spots created by the passage of time (its bioactive compounds have the ability to inhibit the tyrosinase), and a great contribution of hydration, thanks to its fatty acid content, which helps accumulate ceramides, which help build the skin's barrier and retain moisture. Beech extract improves cellular oxygen consumption and keratinocyte protein synthesis (strengthens the architecture of the epidermis).
The buds of the beech tree contain hydroxyproline, an active ingredient that helps build collagen and enhance elastin in skin cells.
Vitamin C: It has the ideal properties of a free radicals neutralizer, that is, a powerful antioxidant. Collagen level restorer.
OLAND organic alternative
Gold Dust: Gold increases fibroblast proliferation and collagen biosynthesis, since it has acted as a cofactor of enzymes that help collagen formation, it is known as a catalyst in the formation of collagen.
Organic Baobab Oil: Powerful antioxidant that accelerates the regenerative capacity of the skin and promotes the creation and preservation of collagen. It reduces the signs of aging and the skin looks smoother and smoother. In addition to retaining moisture for smooth skin, baobab oil keeps fine lines and wrinkles at bay by protecting against collagen breakdown. Thanks to its nourishing and moisturizing properties, it is excellent for dull and dry skin.
Organic Chlorella Extract: It is a green microalgae, it stimulates the synthesis of collagen and elastin, supporting the regeneration of tissues and the reduction of wrinkles. It provides the skin with renewing energy, increasing the levels of hydration, firming it, and protecting it against premature aging.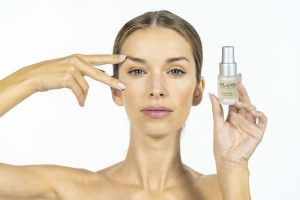 Hyaluronic Acid: Promotes cell renewal and has an impressive ability to retain moisture, helping to regain hydration levels. It promotes the production of collagen and elastin, providing firmness and elasticity to the skin.
OLAND organic alternative
Cupuacu Butter: Cupuacu butter provides true restructuring benefits for the skin, as it improves the skin's moisture barrier and offers true hydration (offers the ability to attract 440% more water) to improve elasticity and anti-inflammatory activity. That high water retention capacity allows you to plump and fill wrinkles and fine lines while ensuring long-lasting hydration to your skin.
Liposomal Hyaluronic Acid: Intensively hydrates, as it is capable of retaining water, generating a thin protective layer on the epidermis that prevents dehydration of the skin. In this way, it significantly increases elasticity and skin firmness, helping to reduce the signs of aging, revitalizing and toning the face.
Vitamin E: Powerful antioxidant activity where lipid peroxidation is prevented. In addition, its photoprotective action has been proven, essential to prevent photoaging.
OLAND organic alternative
Organic Macadamia Nut Oil: It is an excellent ingredient for mature skin, as it prevents the appearance of wrinkles and other signs of aging. In addition, it is antioxidant, nourishing, and highly hydrating, so it softens and soothes dry and sensitive skin.
Organic Cocoa Butter: It has antioxidant, immunomodulatory and DNA repair properties, thus helping to combat photoaging. Its antioxidant capacity protects the skin from the inside by neutralizing oxidative stress, an important factor in the deterioration of the dermal structure and premature aging of the skin. In addition, it soothes and nourishes dry skin, providing a deep sensation of hydration.
Organic Magnolia Flower Extract: Magnolia Bark Extract contains high levels of Magnolol and Honokiol – two organic compounds that are said to be up to 1000 times richer in antioxidants than Vitamin E, thus exerting powerful protection on the skin.
It is present in our products:
As we have been able to point out, it is important to know what are the alternative organic ingredients to the most used anti-aging cosmetic active ingredients, as they are a great ally against the first signs of aging and are effective in their different phases; dehydration, loss of firmness, luminosity, spots, wrinkles, etc.
At OLAND we are your organic alternative to anti-aging cosmetics.
---