Intensive Treatment Mask
Organic skincare treatment for skin in need for rescue.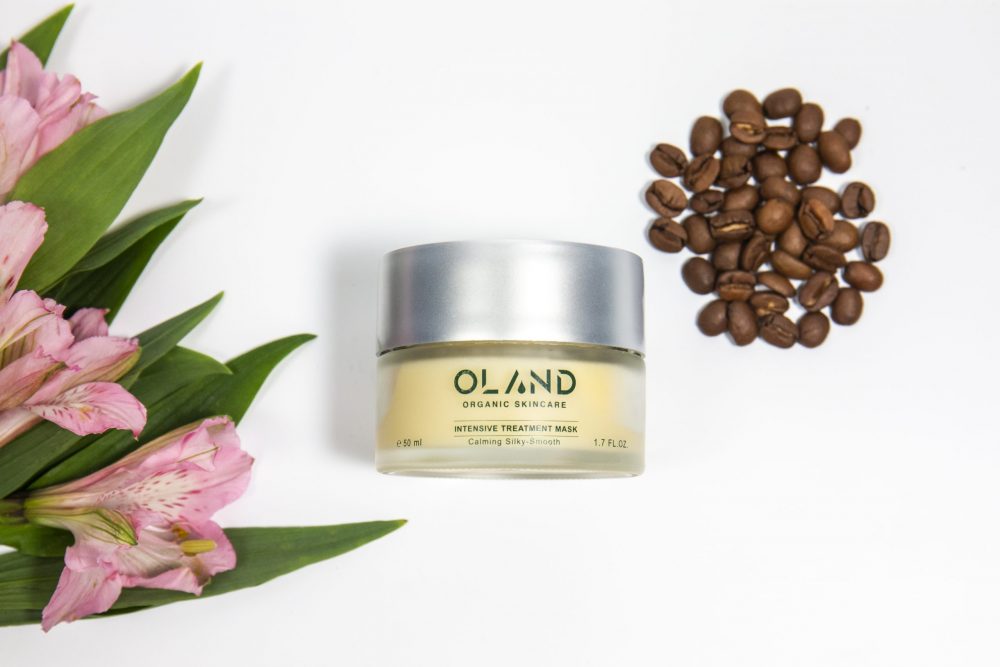 INTENSIVE TREATMENT MASK, Organic skincare treatment for skin in need of rescue. Ageing, flaccidity, wrinkles, spots, dehydration, dull colour on your skin … these are some of the consequences that the sun has on our skin when we overexpose to it during the summer. The protective barrier is altered, the stratum corneum thickens and the skin appears dull and aged. This is the perfect time for an SOS Treatment.
Always respectful with the ecosystem of our skin and committed to offering the most effective beauty routines being in line with the affinity of our skin. OLAND, the organic brand of high-quality certified anti-aging cosmetics, presents you INTENSIVE TREATMENT MASK, a «rescue mask" to combat dryness, flaking, and dehydration by bringing a new luminosity to your skin and promoting cell regeneration.
Benefit from this intensive treatment with more than 95% organic ingredients that have NATRUE international certification. This treatment is for dull, dehydrated, devitalized skin in need of deep regeneration to restore its proper functioning and natural qualities.
The INTENSIVE TREATMENT MASK has a waterless, vegan, and "cruelty-free" formula that combines an exclusive selection of the highest quality organic oils and butter that work in synergy to offer a 100% effective eco-friendly treatment.
Its melting texture melts and penetrates quickly into your skin, giving the skin a long-lasting sensation of well-being and a fresh aroma.
INTENSIVE TREATMENT MASK BENEFITS
Works against aging, stimulating collagen production.
Promotes cells regeneration.
Provides hydration and nutrition.
Cools down the thirst of the very dry and dehydrated skin.
Reduces irritation and tightness of the sensitive skin.
ANTI-AGEING INGREDIENTS
 OLAND represents the anti-aging alternative to the ingredients used in more conventional cosmetics and is committed to the following natural ingredients obtained from controlled ecological cultivation.
HOW TO USE
Use once or twice a week. Take enough quantity, mix the mask with your fingers, and with a gentle massage distribute equally over the face and neck, avoid the eye contour. Let the mask act in your face for around 10-15 minutes. Remove the excess product with a cotton pad.
OLAND is a high-quality certified organic anti-aging cosmetic brand manifesting through its DNA a deep commitment to our planet Earth. As its name OrganicLAND indicates, its mission is to offer an environmentally responsible Beauty, anti-aging experience through formulas that include ingredients found in nature.
OLAND has the highest level of the NATRUE international certification, an international non-profit association committed to the promotion and protection of Natural and Organic Cosmetics worldwide
The certification of NATRUE is one of the most demanding and recognized in the world. All OLAND products are certified as organic cosmetics, containing more than 95% organic ingredients that come from organic cultivation and being produced in a sustainable and environmentally friendly way.
#ORGANICLIKEYOU
If your body is organic, make the products you use on your skin be organic as well. Under this idea, OLAND provides the maximum affinity with the skin, even with the most sensitive skin types, using active ingredients of plants in their original form, vegetable oils, and biocompatible water in the form of hydrolates (pure water that circulates inside the plants) to enhance the anti-aging benefits of its formulas, by being effective at the same time.
OLAND contributes to the impact of our planet Earth by ensuring that its production process is free of synthetic chemicals (fertilizers, pesticides, dyes, preservatives) and GMOs (Genetically modified organisms).
Regarding sustainability, OLAND has developed an action plan to help preserve our planet and reduce the negative impacts of Recycled and Recyclable Packaging, Sustainable Shipping, Organic and Recycled Promotional Materials.
OLAND, the organic alternative to anti-aging cosmetics, takes care of your skin by taking care of our planet at the same time.
---