International Earth Day
The organic alternative to anti-ageing cosmetics.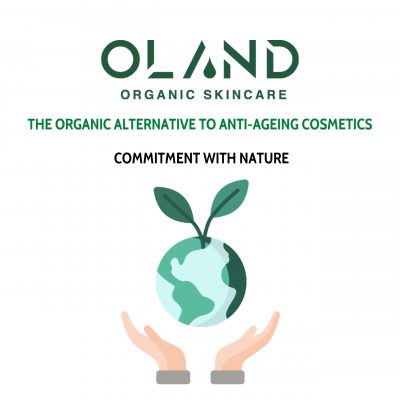 International Earth Day is celebrated on 22 April.
International Earth Day is a day to pay tribute to our Mother Earth and to create a common awareness of the impact of factors such as overpopulation, pollution, biodiversity conservation, and other environmental concerns on our planet.
OLAND, a high quality certified organic cosmetics brand, expresses through its DNA a deep commitment to our planet Earth. As its name OrganicLAND indicates, its mission is to deliver an environmentally responsible beauty experience through formulas that include more than 95% organically grown ingredients.
OLAND has the highest level of international certification from NATRUE, an international non-profit association committed to the promotion and protection of Natural and Organic Cosmetics worldwide.
Its certification is one of the most demanding and recognized in the world. All OLAND products are certified as organic cosmetics, as they contain more than 95% organic ingredients and are produced in a sustainable and environmentally friendly way.
OLAND does its bit to reduce the impact on our planet Earth by ensuring that its production process is free of synthetic chemicals (fertilizers, pesticides, colorings, preservatives) and GMOs (Genetically Modified Organisms).
Lilys, magnolias… Beyond the «natural» label, OLAND fuses technology and the best of nature to offer anti-aging solutions that respect our skin's ecosystem.
Under the motto, #OrganicLikeYou, OLAND provides maximum skin compatibility, even for the most sensitive skin, using active ingredients from plants in their original form, plant oils, and pure water from fruit distillates, without compromising on effectiveness.
OLAND for The Planet
In terms of sustainability, OLAND has developed an action plan to help preserve our planet and reduce the negative impacts that endanger it:
1. 100% Recyclable Packaging
OLAND has cardboard boxes, glass bottles and jars, and polyethylene lids so that you can separate the components and dispose of them in their corresponding containers.
2. Sustainable shipping
Shipping boxes are made from 100% recycled cardboard, printed with non-polluting inks, and include eco-friendly, biodegradable filler inside.
3. Organic and Recycled Promotional Materials
OLAND has 100% organic cotton cloth bags and paper bags containing 20% recycled paper.
OLAND, the organic alternative to anti-aging cosmetics, cares for your skin while caring for the Earth.
---