ORGANIC MAGNOLIA FLOWER EXTRACT
Did you know that it contains actives that are up to 1,000 times richer in antioxidants than Vitamin E?
Did you know that the organic extract from a magnolia flower contains actives that are up to 1,000 times richer in antioxidants than Vitamin E?
OLAND, the certified organic antiaging brand, bets on potent organic ingredients extracted from nature, such as eco-retinol, peptides, Vitamin E, Vitamin C, etc… to create unique antiaging formulas that combat the first signs of aging and make up the true alternative to traditional cosmetics.
Under the motto #OrganicLikeYou, OLAND provides maximum compatibility with the skin, including the most sensitive ones, using plant extracts in their original form, hydrolats originating from fruit distillates, ecologically organic essential oils and butters, that have antiaging benefits and a high regenerating, hydrating and antioxidant power.
"We can boast that more than 95% of our ingredients, carefully selected, are organic, antiaging, and certified by the international association, NATRUE, to offer a beauty experience that is responsible with the environment and with the skin," affirms Marta Soler, OLAND CEO.
OLAND bets on CLEAN cosmetics, free of parabens and silicones.
WHAT DOES THE ORGANIC MAGNOLIA FLOWER EXTRACT HAVE FOR OLAND TO INCLUDE IT ITS FORMULAS?
OLAND makes a very rigorous selection for all of its active ingredients. OLAND values their benefits, their compatibility with the skin, their efficacy, and their origin. The magnolol and honokiol, two organic compounds present in the magnolio bark extract, posess an immense antioxidant power, up to 1,000 times more than Vitamin E, that makes them very interesting antiaging actives for the Spanish firm manufactured in Switzerland. Both exert a powerful protection on the skin against the harmful effects of free radicals, helping to prevent the first signs of aging. In addition, they have recognized anti-inflammatory properties against acne-causing bacteria and calming and brightening properties.
OLAND has wanted to include Organic Magnolia Flower in two of its products; the Conditioning Night Cream and the Intensive Eye Contour Cream.
ORGANIC MAGNOLIA FLOWER EXTRACT FOR YOUR NIGHT CREAM
If you want to transform your skin while taking care of the planet while you sleep, include OLAND's CONDITIONING NIGHT CREAM in your daily beauty routine. During the night, our skin enter regeneration mode, repairing daytime damage and boosting the production of substances that protect and renew it.
Thanks to the ingredients of this vegan formula, such as the Hydrolyzed Organic Maca Root, Organic Beech Bud Extract, Liposome Hyaluronic Acid, the NIGHT CREAM, reinforces the epidermis architecture, promoting collagen reconstruction and minimizing wrinkles.
ORGANIC MAGNOLIA FLOWER EXTRACT FOR YOUR EYES ONLY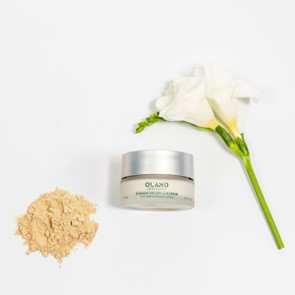 The INTENSIVE EYE CONTOUR CREAM includes in its formula a high concentration of antiaging actives, like the Hydrolyzed Organic Maca Root Extract, Organic Chlorella Extract, Hyaluronic Acid, and Organic Oils that reduces eye bags and smooth the skin microrelief, blurring wrinkles.
With a more nutritional, creamier, and comfortable texture, the Eye Contour Cream redensifies the area, filling in marked expression lines, while calming and protecting the most sensitive area around the eyes.
---